September 25, 2021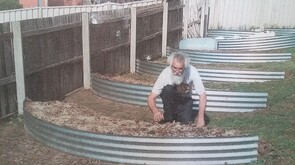 A friend (and somewhat mentor gardener), known locally as Bare Foot Brian, came to me with a concept to prevent his back yard being washed down and across the road whenever it rained. Basically he wanted some sheets of corrugated iron rolled up into semi circles (Brian called them "curvy bits") that...
read more
Galvanised water tanks have been around in Australia since colonial times. Typically any roof space available was utilised to capture and store rain water enabling people to survive the hotter, drier periods.
Rural Tanks still do the traditional job, making water tanks out of galvanised iron and still soldering the joints. This process is both time consuming and labour intensive but it is the traditional way of making tanks and we are proud to be preserving a little bit of history whilst still producing a marketable, affordable and practical product.
Unlike plastic/poly tanks, our tanks don't burn! A valuable and in some cases life saving commodity during a bush fire as was learned during the horrible Black Saturday bushfires of 2009.
Everybody has different opinions and needs and we try to accommodate those needs either with our product or with practical advice on what might better suit individual situations.
Certain situations are better suited to other water storage options, for example storing bore water. Bore water can vastly reduce the life span of a galvanised water tank.
Aesthetics are another situation where everybody's individual opinion differs. Some people decide to make a feature out of their tanks whereby others try as hard as they can to mask what they see as a necessary but ugly blight on their landscape. Whatever your situation we try our hardest to accommodate those needs.
Our range of raised garden beds extends to many different shapes, sizes and we also offer Colorbond™ as an alternative to a galvanised finish. We have a customised rolled safety edge that is actually a part of the unit and not some tacky stick on thing that will deteriorate over time. In addition we manufacture wicking beds which come with an adjustable water leveller.
Our location
Cnr Tebble & Darcy St., Seymour. Vic
(Industrial estate)